DISCOVER THE MOST DELICIOUS HEALTHY SNACKS IN THE WORLD…
Join today and get:
$1 + $3.99 Shipping and Handling.
Rebills monthly. Cancel Anytime.
How It Works
1. Get It
Receive six new and better-for-you snacks delivered right to your doorstep at the beginning of each month.
2. Eat It
Discover and enjoy new flavors and exciting brands that provide healthier snacking options.
3. Rate It
Complete a quick 2-min survey online telling us what you thought about the snacks you enjoyed that month.
What's in the Box
Each box is packed with love and contains 6 of the healthiest, tastiest, full-size snacks. Get bars, chips, jerky, granola, trail mix, dried fruit, and more!
Bars
Come in early? Slay hunger with an organic Go Macro Peanut Butter protein bar or a Caveman Dark Chocolate Nutrition Bar.

Chips
Satisfy salty cravings with brands like Oogies' Popcorn, Garden Veggie Crisps, and Hawaiian Kettle Style Chips.

Healthier Indulgences
For those of you with a sweet tooth, we give you a mix of fruit, healthier cookies, gummies, and more.

Extra Healthy Snacks
Snack even healthier with snacks like Wonderful Pistachios, Mr. Nature Almonds, Plentils Lentil Chips, or Enlightened Broad Bean Crisps.

Your purchase helps fight hunger.
For every box delivered, SnackNation donates a meal to a family in need via our partners at Feeding America.
3,001,976
Meals Delivered
Club Members Get Special Perks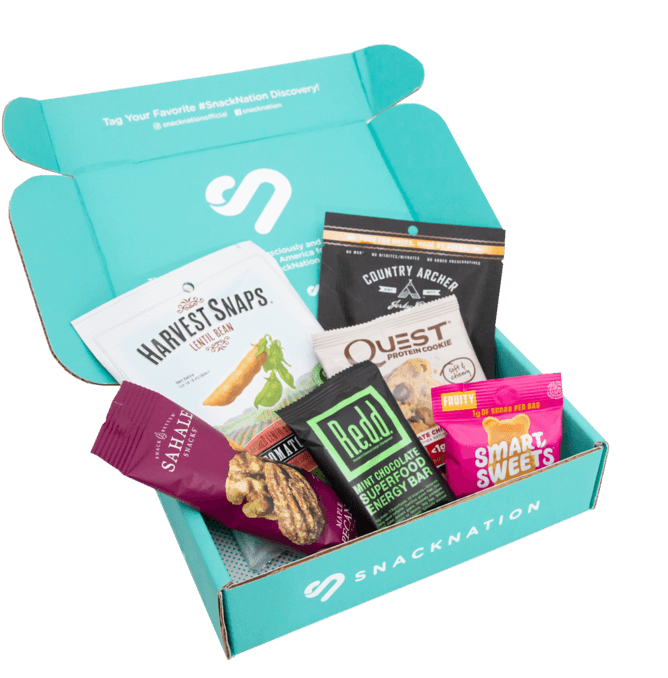 Discover six new snacks every month for only $1
Gain access to innovative snack brands and flavors Have your snacks delivered right to your doorstep
Taste delicious snacks you won't find anywhere else.
Complete a Monthly Survey To Continue Paying $1 Each Month
Yes Survey = $1
Complete a quick and fun online survey and get next month's snacks for $1 + $3.99 shipping.
No Survey = $9.99
Don't complete a survey and pay regular price at $9.99 total next month
For more about our terms and services click here.
© 2019 SnackNation – All Rights Reserved