IF YOU WANT TO DISCOVER THE
MOST DELICIOUS
, HEALTHIER SNACKS IN THE WORLD…
Join Today and Get:
$3.99 Shipping and Handling. See Details Below.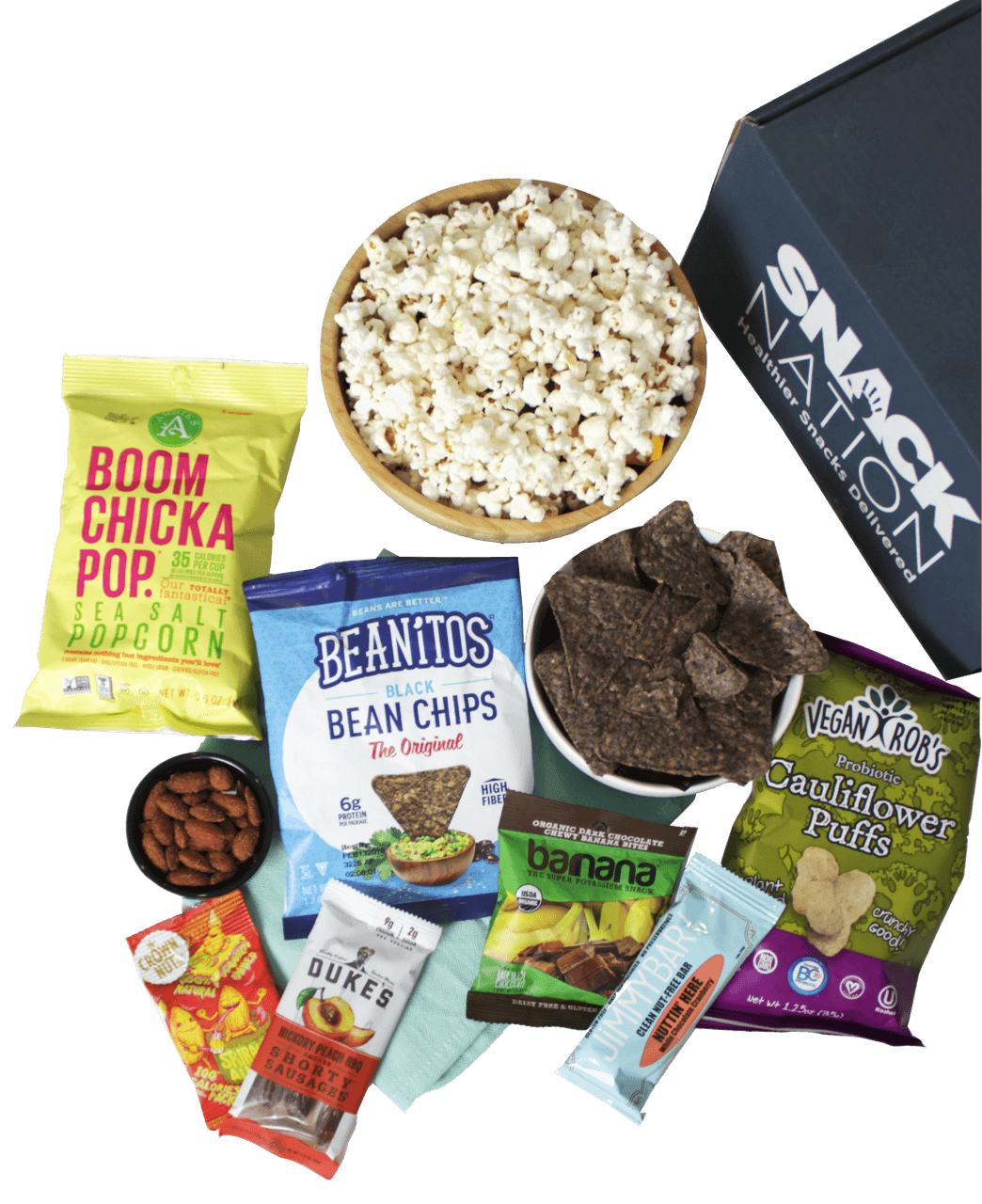 What's In a Typical Box?
Each box is packed with love and contains 6 of the healthiest, tastiest, single-serve, full-size snacks. Get bars, chips, jerky, granola, trail mix, dried fruit, and more!
Bars
Come in early? Slay hunger with an organic Go Macro Peanut Butter protein bar or a Caveman Dark Chocolate Nutrition Bar.
Chips
Satisfy salty cravings with brands like Oogies' Popcorn, Garden Veggie Crisps, and Hawaiian Kettle Style Chips.
Healthier Indulgences
For those of you with a sweet tooth, we give you a mix of fruit, healthier cookies, gummies, and more.
Extra Healthy Snacks
Snack even healthier with snacks like Wonderful Pistachios, Mr. Nature Almonds, Plentils Lentil Chips, or Enlightened Broad Bean Crisps.
How Dollar Snack Club Works
RECEIVE
Receive 6 delicious, better-for-you snacks every month, right to your doorstep. Your credit card will be charged $1.00 + $3.99 S&H per delivery.
ENJOY
Enjoy all 6 snacks and complete a 2-min, fun online survey telling us what you think about the snacks. If you complete the survey, you'll receive the snacks for $1 + $3.99 S&H the following month. Cancel anytime!
REPEAT
Every month, you'll receive 6 of the newest, most delicious snacks in the world. Complete a 2-min survey and they're $1 + $3.99 S&H. Don't complete a survey and they're $9.99.
Complete Monthly Survey To Continue Paying Just $1 + $3.99 S&H Each Month.
Complete a 2-min, fun online survey and pay $1 + $3.99 S&H for 6 snacks
Don't complete the survey and pay $9.99 for 6 snacks

Disclaimer: Information, statements, and reviews regarding products have not been evaluated by the Food and Drug Administration. These products are not intended to diagnose, treat, cure, or prevent any disease. SnackNation assumes no liability for misstatements or inaccuracies about products and will not be liable for lost profits, loss of business or other consequential, special, indirect or punitive damages, even if advised of the possibility of such damages, or for any claim by any third party except as expressly provided herein. Our "Snack Scientists" and fulfillment "Snackticians" do their best job to send you boxes that meet your dietary needs but we ask that you check all of the product labels to ensure your dietary needs are met. The Awesome Office, Inc, d/b/a SnackNation reserves the right to discontinue the Dollar Snack Club at any time. For more about our terms and services click here.